Craft beer is a beloved drink among Australians, and Cronulla is a hub for fantastic breweries that produce delicious and unique craft beers. Pairing craft beer with food is an art that can enhance the flavor of both the beer and the dish, creating a perfect match that will elevate your dining experience. Here are some tips and tricks for pairing craft beer in Cronulla with food.
Consider the intensity of the beer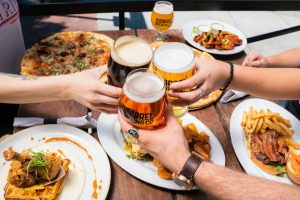 Considering the beer's strength is essential when pairing it with food. For lighter meals like shellfish, salads, or grilled chicken, a light beer with a lower alcohol content, like a Pilsner or a Wheat beer, pairs well. These beers are flavorful and sharp, but they won't overpower the dish's delicate flavors.
Stronger beers like IPAs or Stouts, on the other hand, have a richer, more complex flavor that can withstand bolder foods, including spicy curries or grilled meats. Rich desserts like chocolate cake or thick cheesecake go well with these brews.
Match the flavor profile of the beer with the dish
A harmonious balance of flavors that can improve the quality of both the beer and the food can be created by matching the flavor profile of the beer with the cuisine.
For example, a fruity beer such as a Raspberry Sour can pair well with a fruit salad or a cheese board with berries. The tartness of the beer complements the sweetness of the fruits and the creaminess of the cheese. Similarly, a spicy beer like a Chilli Stout can be paired with a spicy burger or a hot and sour soup, creating a fiery and delicious combination of flavors.
Consider the cooking method of the dish
The cooking method of the dish can also affect the pairing of craft beer with food. Grilled or roasted foods have a smoky or charred flavor that pairs nicely with smoky or earthy beers like a Smoked Porter or a Brown Ale. Lighter dishes like salads or raw seafood can pair well with beers that have a crisp and refreshing taste, such as a Pilsner or a Hefeweizen.
Experiment with contrasting flavors
Contrasting flavors can also create a delightful pairing of craft beer with food. For example, a bitter beer like an IPA can cut through the richness of a creamy pasta dish or a cheesy pizza, creating a refreshing and balanced flavor. Similarly, a sweet beer like a Belgian Dubbel can complement the salty and savory flavors of a roasted pork belly or a charcuterie board.
Conclusion
Pairing craft beer with food is an exciting and fun way to enhance your dining experience. You can create the perfect match that will enhance the flavors of both the beer and the food by taking into account the intensity, flavor profile and cooking technique of the dish. Don't be hesitant to try new flavors and have fun coming up with inventive and mouthwatering combinations. In Cronulla, there are plenty of fantastic craft beer options to choose from, so grab a pint and start pairing at https://hairyman.com.au/.